CMA Membership: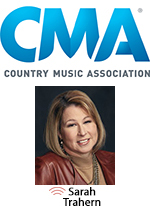 Re-Member:
The
Country Music Association
(
CMA
) has created new membership tiers: Student, Industry, Professional and Lifetime. "In looking specifically at CMA membership, we saw the need to not only create growth opportunities with our industry's future in mind, but to also ensure our organization and what we offer our industry remains relevant," says CMA CEO
Sarah Trahern
. The student tier is free of charge and offered to high school and college students aged 16 or older. The industry tier is reserved for current and prospective music industry professionals who do not work the majority of the time in country music; the tier cost is $25 annually and offers access to a portion of membership benefits. Full benefits are available for $100 per year at the professional tier level for those working primarily within the country music industry. Finally, lifetime membership is offered to various individuals who have achieved prominent industry accolades. Details and application
here
.